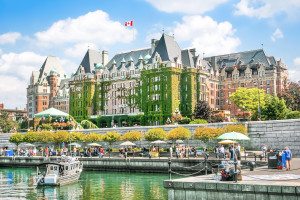 Welcome to Victoria, British Columbia.  Have you been?
Victoria is a beautiful little city, sitting right on the harbor and there is so much to do.
I have been to Victoria twice in the last 6 month's and find something new with each visit.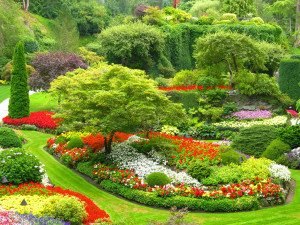 Victoria is known for Butchart Gardens and honestly everyone needs to visit the gardens at least once.
The gardens are set on what use to be a cement factory and quarry when Jennie Butchart created these stunning gardens over the quarry.  They change with the season and are a must do when in Victoria.
http://www.butchartgardens.com/
An informative and fun way to get an overview on the city is to take a Hop On, Hop Off bus tour.  I use to not be a fan of these and I can't tell you why, but now I try to take them in every city.  They are not only informative, but allow you to get on and off at your leisure and you get a great overview and history of the city.  There are two companies that operate in Victoria, Gray Line Tours and the Big Bus Victoria.
http://www.bigbusvictoria.com/web/
There are flightseeing opportunities from the harbor in a float plane if that is on your bucket list.  If you are looking to get out on the water, these adorable little boats cruise the harbor not only as taxi's, but they offer a harbor tour and a gorge tour.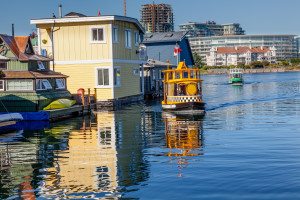 http://www.victoriaharbourferry.com/
Maybe you just want to stroll through town, it is beautiful, you will find great restaurants and cafe's, along with a few pubs. Chinatown is small but fascinating.
I highly recommend the Royal B.C. Museum.  You could easily spend a day in the museum and want another day.  There is so much history in exquisite galleries and exhibits in this gem.  The museum also offers an IMAX theater, along with a restaurant for your convenience.  Included in the ticket price is a 1 hour tour.  Take it, you will get a very informative tour guide who will walk you around the museum telling you about each gallery, history of Victoria and the First People.  This is a great activity if you are traveling with kids.
The High Tea at the Empress Hotel is another must do.  This has been on my list for the longest time and my last trip I was with a girlfriend, so we decided to make reservations and go since the men in our lives would do it, but wouldn't love it.  It was such a fun experience and well worth the money.
The tea room and the entire hotel will take you back in time, it is gorgeous and full of history.  Seated at a table near the window with a view of the harbor, the server brings fresh berries, tea and then a tiered tray of tea sandwiches, scones, jam and cream and tiny pastries that leave you longing for more.  Don't miss it.  Reservations can be made directly online, open table and if you are arriving by cruise line, many will offer this option as an excursion.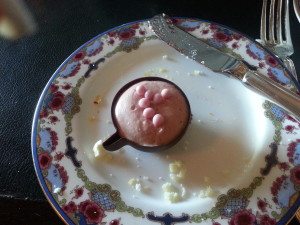 One last fun thing to do is wander through the Waterfront Village, or Fisherman's Village.  There are floating homes, with little shops mixed in between and eateries.  Don't miss it!
If you are arriving by cruise ship and aren't taking an excursion or tour directly from the ship, there are several ways to get yourself into town.  Walk, it is about 2 to 3 miles into town, and the walk will take you through neighborhoods and along the waterfront.
There will be Pedicabs at the ship.  The pedicabs will take you through neighborhoods and along James Bay and in 2015, the rates to get into town from the ship were $18 to $20 per pedicab.  You will find shuttle buses that will also take you and they currently are charging $10 to $12 round trip.
Until next time, travel safe.
Terri