NCL Dining aboard the Jewel…
Having shared with you last week a bit about the NCL cruise I recently took, there was just too much to fill you in on, so this week I want to give you an idea of what they offer in the way of dining.  Isn't one of the reasons we all cruise is for the food?
This post is a bit tough for me to write to you, while they offer a lot of dining options on board, the food was a huge disappointment.  If you are a foodie and are looking for amazing food, interesting food, and service with a smile, based on my experience with NCL, this is not the cruise line for you.  So let's get started.
The NCL Jewel is one of the older and smaller ships,  there are many more dining options on their newer and larger ships, but for today, I will share with you the experience on the Jewel.
There are 2 main dining rooms that are complimentary, Tsar's Palace and Azura.  With NCL's move to Freestyle cruising, there are no set dining times, you go when you want during the times the dining rooms are open.  I found the service to be lacking and the food very disappointing.  The soup at lunch was barely lukewarm and the garnish on the dessert was just sad, and should have never been put on the dish.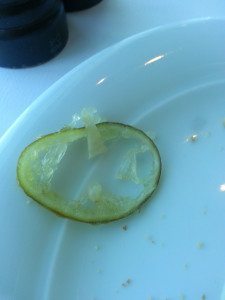 The ship has several specialty restaurants which will cost you an additional fee. I had the opportunity to dine at Le Bistro, the french inspired restaurant.  The service was good, food was good, but not exceptional.  I was going to order the Chocolate Fondue for dessert to give their desserts a try, when a woman at the next table leaned over and said, "don't order it, the chocolate tastes burned."
La Cucina, the homestyle Italian eatery, also an additional fee, was very disappointing.  Our server was fun, friendly and bubbly, but the food was lacking any seasoning and they overcooked the pasta.
Moderno, is their take on a Brazilian Churascarria, and we didn't make it for dinner.  There is an additional fee for this restaurant also.
Cagney's Steakhouse was another that I didn't have a chance to eat at, but in talking to other's, it wasn't fantastic.
The Teppanayaki Room is a small room off to the side near the Asian Fusion restaurant.  The chefs are engaging, the food was basic, nothing special.  Again, you will pay a fee for this restaurant as well.
Sushi and Sake Bar, this eatery sells the Sushi by piece and I felt it to be a bit costly.
NCL also has 2 other restaurants that are complimentary, O'Sheehan's, the Irish Pub and Chin Chin, an Asian Fusion restaurant.
Dining at O'Sheehan's, you will find they are open breakfast, lunch and dinner.  There is no charge and the food was okay.  My Reuben sandwich was dry, had pastrami and that was it, no sauerkraut, or coleslaw, which is not a true Reuben.  Breakfast too was a disappointment with over cooked scrambled eggs and under cooked bacon.
The night I dined at Chin Chin was the frosting on the cake, oh that is to come.  This restaurant is also complimentary.  I started with an egg roll appetizer and as soon as the server set the plate down, I knew this wasn't going to be a great experience.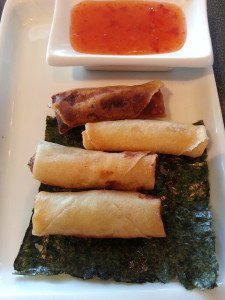 Three somewhat underdone eggrolls and one completely burned.  Why they put that on the plate, I will never understand.
The buffet, while laid out well to allow good traffic flow, the food was typical buffet.
Now for the frosting on the cake.  NCL has partnered with Buddy Valastro of the Cake Boss, and most ships now have Carlos's Bakery on board. I was ready for a sweet afternoon pick me up on the way to a meeting, so stopped to pick up a Chocolate/Peanut Butter cupcake.  I took one bite and honestly the bite didn't make it to my grumbling stomach.  The cake was dry and the chocolate tasted rancid.  The frosting had a wax like texture and no flavor at all.  I was so disappointed as it went in the trash can.  The bakery items are an additional fee with an 18% gratuity added to them. If you are a Celebrity chef and you lend your name, you better make sure the quality meets your expectations.  In this case, I won't try his land based bakery after this experience.
Lastly, room service.  Be advised NCL is now charging a $7.95 fee for room service.  The only exception to the rule is if you order continental breakfast with no hot food items, coffee and or tea between the hours of 6:30 am and 10:00 am.  There is not a delivery fee for the continental breakfast between those hours.  Food was forgettable.
I guess you might say it was the diet cruise for me.  While others in the buffet lines were heaping it on and I wonder if they tasted it as it went down.
I understand these are my opinions and based on my tastes and expectations, but I won't be putting any of my clients on board after my experience, they wouldn't be happy.
Next week, I will share a few must do's in Victoria, BC and how to get to town from the port.
Until then,
Travel Safe,
Terri