I found another great little cafe at a regional airport in Fullerton, California, you must go!
Fullerton, California is a town tucked into central Orange County, California not far from Disneyland and Knott's Berry Farm.  This cool little town has a quaint downtown area with boutique shops, a tea shop, restaurants, breweries and bars.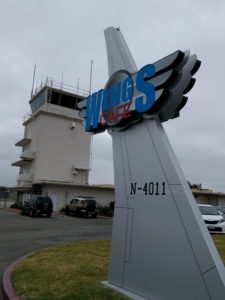 Away from the downtown area, nestled amidst older neighborhoods is the Fullerton Regional Airport.  Dating back to 1913, when the former pig farm with a makeshift dirt land strip, the land was used by crop dusters, the airport's official birthday dates back to 1927.
I have fond memories of the airport from the few years  I lived in Fullerton in the 80's. They offered helicopter flights from the airport to LAX where you could easily connect with your commercial flights.
To go back to the airport brought back fun memories and to dine at Wings Cafe was pure diner heaven.
The cafe is entirely aviation themed, and opened in October 2015 by local restaurateurs Brian and Sherri White. The decor features authentic aviation themed items including some interesting vintage pieces.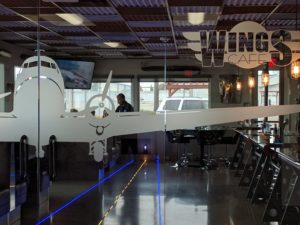 Entering the restaurant from the main airport building, you can't miss the cafe.  The sliding doors are etched with a large airplane and the floor is a lit runway.  The main dining room features high top tables, all of which are placed carefully around the room so each diner has views out of the large picture windows to the runway.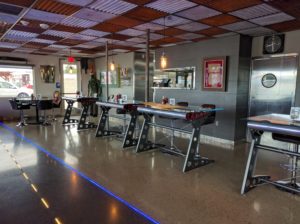 The menu is filled with all of your favorite breakfast dishes from, eggs, bacon and sausage to omelets, breakfast sandwiches, breakfast burrito, french toast, pancakes and waffles even beautifully cooked and creamy eggs benedict.
The lunch menu offers diners dishes that take you back to  your childhood favorites, and are pure and simple comfort food dishes.  Hot dogs, chili dogs, burgers, chili size and bowls of hot homemade chili, patty melt, egg salad sandwich and even a tuna melt.  You will also find a few salad choices, malts, shakes, freezes and ice cream sodas.  Looking for something a bit stronger, yes, they offer beer, wine and mimosas too.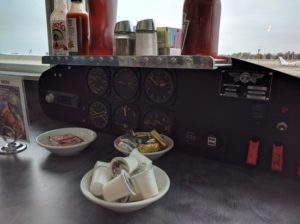 We loved sitting against the window watching planes take off and land, even a helicopter or two,  Wings Cafe is great for the kids, offering great views and scrumptious comfort food and authentic diner style dishes.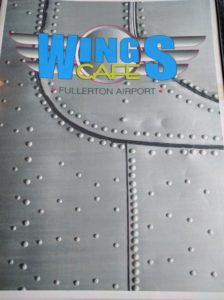 Search out the unique and local spots, you will never be disappointed.
Until next time, travel safe.
Terri