We all look for a quick weekend getaway, and sometimes you only have one day in a town, or city and are looking for a fun activity, outdoor adventure, unique museum or cultural experience.  It can be hard to choose and sometimes, you just aren't sure what to do.
I am going to add a new feature on the blog, One Day in……., hoping you will find the information helpful or at least give you things to explore while planning your travels.
Let's start with Scottsdale, Arizona, a great town to spend a day or two.
The Arizona desert is very different than other U.S desert areas.  It is a beautiful spot to explore and really learn about the area. Just be cautious when walking out through the brush.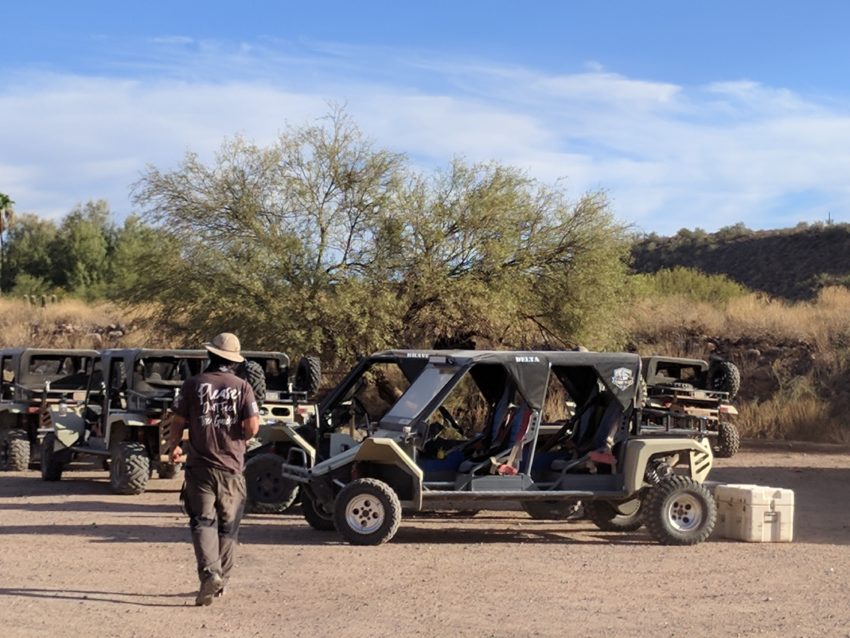 To Do: Desert Wolf Tours
A really fun adventure to get out into the desert safely. Located in New River, Arizona.  If you are staying in Scottsdale, depending on the time of day, it may take you 45 minutes to drive to the meeting location, just allow enough time.
You will meet behind the Roadrunner Restaurant and Saloon.  Park in the side dirt parking lot next to the restaurant.  The staff at Desert Wolf are professional, knowledgeable, engaging and fun.
Driving old military Tomcars, you will get off-road soon. The off-road vehicles are fun to drive and a great way to explore the desert.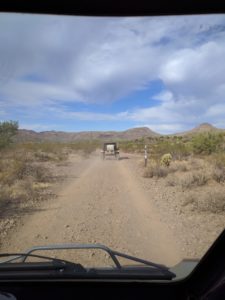 The guides stop along the way, taking you on a walk out into the desert to talk about the eco-system, plants and critters that make their home in the wild.  Watch out for the Jumping Cholla, it will get you.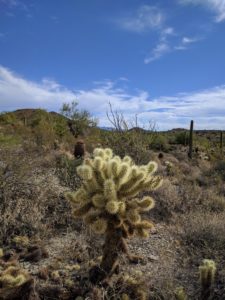 After scootin' up and down the hills and roads, taking photos and exploring you will head back to the Roadrunner Restaurant.  Don't forget to tip your guides, they add value to your experience.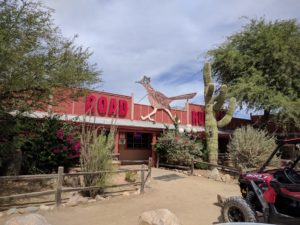 Eat: Roadrunner Restaurant and Saloon
If you have time, stop into the Roadrunner for snacks, lunch or dinner and drinks.  The restaurant is rustic, western and very casual.  Don't feel bad about popping in dusty and dirty after your adventure, it simply doesn't matter.  The drinks are refreshing and great, the staff friendly and the food, scrumptious.  Craving a burger? Try the Jalapeno Ranch Burger.  Bite into a half pound burger topped with fresh pico de gallo, jalapeno cream cheese, cheddar cheese and jalapeno ranch sauce.  All is wrapped into a flour tortilla and lightly fried and crunchy.  Pair it with Beer Battered Onion Rings, or crunchy Fried Okra.
http://www.roadrunnerrestaurantandsaloon.com/
If your afternoon is free, check out Old Town Scottsdale for art galleries, western stores and little eateries.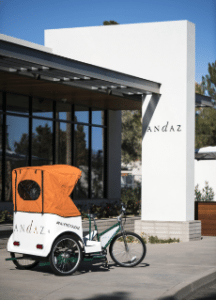 Stay: Andaz Scottsdale
I reviewed this stunning hotel on the last blog post, so check it out for more detail.
Check the blog post too for the restaurant on property.
https://scottsdale.andaz.hyatt.com/en/hotel/home.html
If you happen to have a second night in Scottsdale, Blanco Tacos and Tequila is another great dining option, especially if you are craving Southwestern food.  It is an easy walk from the Andaz.
The food is absolutely delicious, fresh and elevated with southwestern dishes. The enchildas are not your traditional enchiladas.  They are layered tortillas in a skillet and have a soft and creamy filling depending on your choice and covered in a beautiful sauce, spicy but not overly hot.
The street taco platter comes with 3 tacos and you can mix and match fillings.  You can choose from fillings such as short rib, avocado, pork, shrimp, chicken or carne asada.  Wanting a bit more with your chips and salsa to start, grab an order of the Street Corn.  It is an addictive dish of roasted, smoky fresh corn, mixed with cilantro, lime and cotija cheese.  Perfect for dipping the chips.
Enjoy Scottsdale,
Until next time, travel safe,
Terri