Are you the type of traveler that searches out the hidden gems when you travel, or do you prefer a chain restaurant and something you are comfortable with?
When traveling and even when home, I love to find the hidden gems. On a recent trip we discovered a different type of American style diner, serving pure and simple comfort food, and now I'm hooked, so bear with me as I share my favorites with you occasionally. Many local and regional airports have hometown, diner style restaurants serving some incredible food, and I'm setting out to discover as many as I can to share with you.
California Highway 99 is a 4 lane highway, with only 2 lanes in each direction that runs North and South in California splitting off the 5 freeway just over the grapevine and it snakes up the Central Valley ending near Red Bluff, California.
There are some great little towns along the road where you can find some mom and pop style eateries and make for wonderful stops to eat and explore.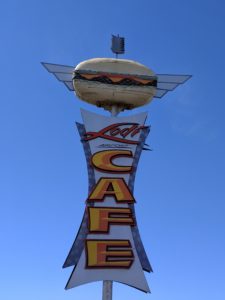 Following Hwy 99 north, we were headed to Lodi, California to spend a few days exploring this up and coming wine region.  Lodi is a small, friendly town with some great wineries and eateries.  Located just a smidge north out of town is the local, regional Lodi airport. Sitting alongside the runway is the Lodi Airport Cafe.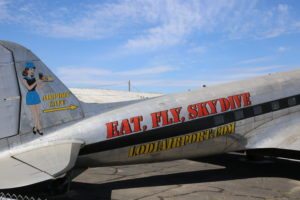 Lodi Airport Cafe is family owned and was remodeled about 3 years ago.  As you step in the door,you will feel right at home. The interior is clean, and bright, giving you the sense of eating in an airport hanger with the corrugated ceiling and airplane memorabilia sprinkled around the cafe.
Our server immediately greeted us, seated us and had coffee and tea on the table. The breakfast menu has plenty of choices from Two Egg Breakfasts, sweet dishes of waffles, pancakes and french toast; Pilot specials and omelets.  The cafe is known for their homemade focaccia made fresh every morning, so we settled on the Focaccia Breakfast sandwich.  The tender and soft melt in your mouth bread was filled with grilled ham, creamy scrambled eggs and melted cheese, be sure to add some fresh sliced avocado for the perfect bite.  The sandwich comes with a side of potatoes that were grilled, not greasy and so well flavored with bits of chopped onion. The omelets are large and perfectly cooked.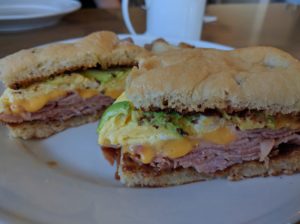 The lunch menu looks equally as delicious.  Filled with fresh burger choices and plenty of sandwiches, several with offer that same amazing focaccia bread. The salads are made with only fresh ingredients.  Their Sunshine Salad is the most popular and is filled with tender greens, mandarin oranges, chopped pecans, green onions, cranberries, avocado, feta cheese, and grilled chicken sits atop the salad and  drizzled with the Lodi Airport Cafe's famous homemade poppy seed dressing.
As you eat, you will enjoy watching the sky diver's take off and then take flight coming in for their landings right outside the window.
If you find yourself outside Lodi on Hwy 99 and in need of breakfast or lunch; stop in for a break and a fantastic meal. You will enjoy the fun of watching planes take off, land and sky diver's filling the sky as they make their way back to the airport.
Until next time,
Terri