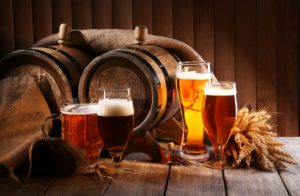 Hey everyone, it is has been awhile, but we are talking more Orange County breweries again.  Just when I think we are on the last leg of the journey, more continue to pop up, which is really cool.
I read an article the other day about beer.  Did you know that beer contains the nutrients needed for human survival? The article went on to say that the health benefits of beer include reducing the risk of kidney stones. Beer aids in post-workout recovery and boosts the immune system.  So Cheers!
We will start in Central Orange County first.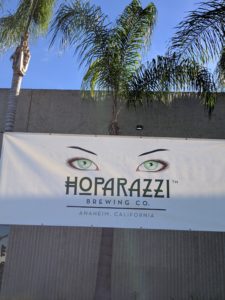 Hoparazzi Brewing Company is located just around the corner from Bottle Logic at 2898 La Palma Ave. Ste D in Anaheim.  This great little microbrewery celebrated it's one year anniversary in January and I hope they have many more to come.
Open on Friday, Saturday and Sunday only, Hoparazzi has beers for everyone.  They offer a nice selection of IPA's, Stouts and are doing some beautiful sours.  Steve has been brewing for over 15 years and his sours are unlike any we have tried recently.  They are very fruit forward and really great.  I am starting to love sours as they aren't hoppy.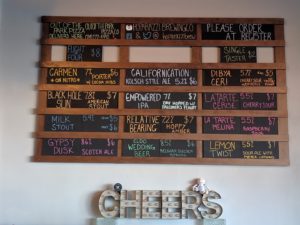 On our visit we met Lisa, the owner and she is so fun and very friendly. The tasting room has a beautiful and large bar.  She bought the wood alleys from a Midwest bowling alley that was closing.  Thinking she would plane them down smaller, she decided to keep the alleys in tact and just as they were.  With a new coat of varnish she built the bar and it is very cool.
The brewery is bright and so clean you could drink from the floor.  We all know a good way to tell about the cleanliness of a restaurant is to check the bathroom.  Well, at Hoparazzi, you must.  The bathrooms are spotless, just a bit different and for the girls, the floor has glitter and a mini chandelier.  You can't miss this brewery, it is a great spot to hang out, enjoy some really tasty beer and lively conversation.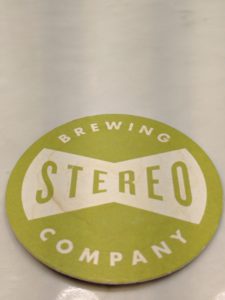 Stereo Brewing in Placentia is another newby to the OC beer scene.  They recently opened in October 2016 and are quickly becoming a favorite spot.  From the moment you walk in the door you feel the energy and hear the vinyls they are spinning on the turntable.
The tasting room is a good size, there is plenty of room for you and a group of friends to hang out.  They have a nice bar with quite a few tables.  If there is room at the bar, pull up a stool and visit with the employees and the owner.  He has worked at several breweries and been brewing beer for quite awhile.  After visiting so many breweries, you find a favorite and you can taste the passion they have in the flavor of the beers.  At Stereo, you will taste the passion and attention to detail in the brewing.  On the weekends food trucks make an appearance and are serving food. Check their social media as on some evenings they will have live bands.
Heading down south to San Clemente,  make this an all day adventure.  Walk out on the pier, shop in the downtown area and do some beer tasting at the 3 breweries in town.
Artifex Brewing is a small little microbrewery, located in an industrial park.  Inside you will find a few tables with a few on the patio.  The staff was friendly and very willing to recommend beers to fit with your taste buds.  We visited on a Thursday afternoon and the brewery was pretty quiet except for the brewers working.  We ordered a tasting flight and sampled their IPA's, Double IPA's, a red ale and a stout or two.
Lost Winds Brewing Company is located across the street from Artifex in another industrial complex.  This microbrewery has only been open for a few months.  The tasting room has a nice L shaped bar with a few wine barrel tables scattered around the tasting room.  Sitting at the bar is always the best spot to be, you can learn a lot about their history and the beers while tasting and talking to the staff.  The beers at Lost Winds were very nice.  They pour Saisons, Blonde, Belgian and Pale ales with a stout or two and a nitro infused Belgian Style Ale.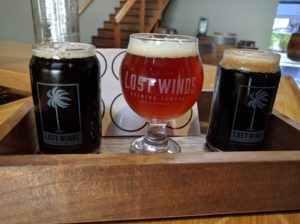 We met some really nice people from out of town who were enjoying a beautiful, sunny Southern California day.  Lost Winds is a fun spot to hang out with friends.  If you happen to find "Happy Birthday Baby Jesus" on the beer board, give it a go.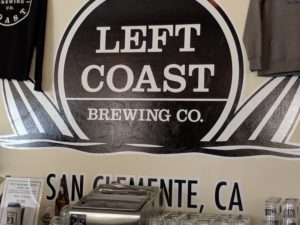 Left Coast Brewing is just up the road from Artifex and Lost Winds.  Here we met Sam in the tasting room as we pulled up to the bar.  Left Coast has a large tasting room and a large listing of beers to taste.
The brewery is owned by the family who owns Oggi's restaurants.  They have big plans for expanding the brewery side of the business.  In my opinion, Left Coast is not a microbrewery and the beers are not brewed at this location in San Clemente, with that said, we found some dark, creamy and rich stouts to taste. We also tried their barrel aged stout and a roasted peanut stout, both were scrumptious. Sam was very knowledgeable about the beers and loves to chat with you.
In between tasting or before you head up the hill to the breweries a great little spot for lunch is Brick Pizzeria in the downtown area.  The pizza is incredible and now I understand why they were voted one of the top Pizzeria's in Orange County.  Grab a pizza and take your leftovers with you to help soak up the beer.
Have fun, be responsible in drinking and driving and enjoy the breweries of Orange County.
Until next time, Cheers!
Terri