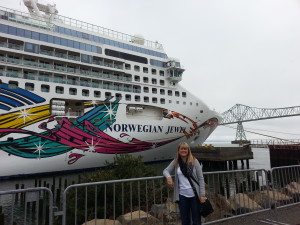 Good morning from hot and muggy Southern California.  At this moment I am longing to be back in British Columbia and Oregon.  The weather was cool and crisp, fall was starting to settle in.  The trees were beginning to turn all the beautiful vibrant colors of fall.  I love traveling this time of year and am ready to go again. How about you?
Have you cruised with NCL, if so I would love to hear your thoughts.  Having never been on board with NCL, I was anxious to check it out and learn more about it.  They are definitely changing it up with their Freestyle cruising and understand for some this is the only way to go.
We started in Vancouver, BC and headed south into Los Angeles where the Jewel will make her home for 6 months to sail round trip to Mexico.
There were positives and a few negatives and I hope to share with you so when it comes time to decide for yourselves you will have a better understanding of the cruise line. So let's get started….
Freestyle cruising is just that, you to be free, relaxed and casual.  There are no set dining times in the dining rooms, you dine when you want.  Dress is casual, there is no dressing up or dressing nice for dinner if you don't want to.  We saw guests in slacks and blouses or slacks and golf shirts, women in dresses and we saw cut-off shorts and flip flops, it is all about the guest and what you are comfortable with.  The only restaurant reservations that need to be made are for the specialty restaurants on board. You aren't on any time schedule.
NCL like the larger cruise lines, has different classes of ship, from the older smaller ships to the mega ships with over 4,000 guests on board.  The ship we were on was a Jewel Class, a bit older, but recently updated.   My post is going to apply to this class of ship, what is on board and offered.  The larger ships are different and have different activities and dining options.
I had the opportunity to see an Interior Cabin, and a Haven suite and stayed in a balcony cabin.
If you are on a tight budget and don't mind the interior cabins which have no window, or porthole, they are not bad.  You have the choice of 2 twin beds or a queen, with a bathroom and ample closet space.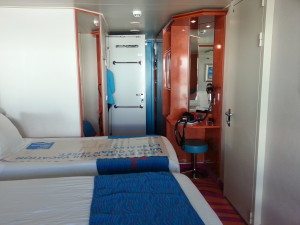 The balcony cabins, while it is nice having the outdoor space and a door you can leave open to hear the ocean, they are a bit tight compared to other ships.  The bathroom was quite tight, with not much space around the sink to lay a cosmetic bag, or shaving gear.  There is a sliding glass door between the sink area and toliet, but the toliet room is tight and if you are tall, you will need to sit sideways to keep from having your knees push into the wall.  The shower is quite large, you won't feel claustrophobic.  For a bit more room you may want to consider bumping up to a mini suite, or if your budget allows head up to the Haven.
NCL has added a private area to most of their ships called the Haven.  If staying in the Haven, you will have special key card access.  You will find a private pool deck and the cabins are secluded.  They offer some nice amenities.  The two bedroom unit has a bedroom with a king bed, the bathroom is large with a window looking out to the ocean and double vanities.  The living room has a little kitchen area with a coffee maker and table with 4 chairs for dining with room service.  There is a nice balcony off the living room with 4 deck chairs.  The sofa makes into a nice twin bed.  The second bedroom offers a double bed and a twin that drops down from the ceiling.  There is plenty of closet space and a nice sized second bathroom.  This is a great option for friends traveling together or a family with children.
On their newer larger ships, they are adding studio cabins for the solo traveler.  This is a great option for those traveling alone, they are interior cabins with a fake window, but you will have your own lounge where you can meet other singles traveling alone.
We are just getting started and all I have covered is the basics.  I will close for now and will meet you back here next week and we will chat about the food on board, isn't that what most of us cruise for?
Travel Well,
Terri