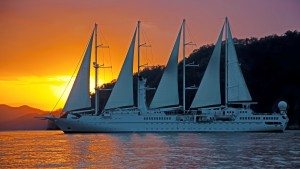 Are you the type of cruiser who loves the big ships, or do you prefer the smaller more intimate cruise experience?
Windstar cruises gives you, the guest a more personal, intimate and private yachting cruise vacation.
The cruise line has just recently announced a new partnership with the James Beard Foundation.  The cruise line is calling all foodies for this one of a kind experience to cruise with food and wine experts.
The 3 themed James Beard Foundation Culinary Collection cruises for 2016 will give you the tastes of the special regions.  The three sailings will take you to  either Southern Spain and Morocco or Spain and France.
On each sailing you will have one of a kind interactaction with a James Beard featured chef.  The chef will act as your ambassador aboard, offering cooking demonstrations, a nightly dish, one on one time and a trip to a local market or culinary experience like none other.  Each cruise will also offer a wine expert guiding you to the regions wineries and wines.
If you aren't able to make one of the James Beard Culinary cruises, you still have foodie opportunities with Windstar.  Many of Windstar's European cruises, give you the opportunity to go into port with the chef to shop a local market, buy ingredients that the chef will feature on the nightly menu.
Windstar is known for their exquisite and beautiful sailing yachts.  They have recently added 3 power yachts that have been completely refurbished to Windstar's signature elegant decor.  The sailing yachts and power yachts take you where the big ships can't.
Ready to go?  Windstar cruising; it just doesn't get any better.
Travel Safe,
Terri