Newport Beach has so many fabulous restaurants and Provenance tops my list. This is one I highly recommend.  If you live in the area or will be visiting over the summer, add this restaurant to your list of places to eat.
Provenance is a  cool restaurant is tucked into the corner of a typical strip style shopping center, Eastbluff Village Center.  There is nothing typical about Provenance, once you step through the doors.
Decorated in a bit of an industrial style, it also has a farmhouse cozy feel.  Dining indoors is nice and you will feel the outdoors coming inside. The glass doors that run the length of the restaurant are typically open, bringing in the fresh sea air.  The patio is a lovely spot and one of my favorites.  The patio showcases the restaurants garden.  Raised beds and wall boxes are filled with fresh herbs and vegetables, all of which make their way to the kitchen and ultimately onto your plate.
The concept of the restaurant is to deliver Napa Valley cuisine to coastal Southern California, and they do it perfectly.  The chef has made a commitment to use only humanely raised meats, free range chicken and turkey along with sustainable seafood.  Ingredients change by the season and the menu changes as well.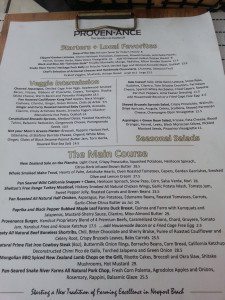 Having dined at the restaurant several times for lunch, the menu is a bit different for dinner.  The lunch offerings include beautifully fresh salads, an occasional homemade pasta, seafood, fresh soup and sandwiches.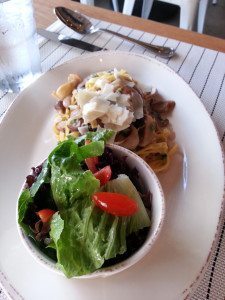 I recently went back for dinner and it was amazing.  The current dinner menu offers fresh made soup, crispy fresh salads, charcuterie plate, vegetable dishes such as roasted brussels sprouts, steak, seafood, a short rib dish, duck and chicken.
The short rib came recommended as well as the lamb dish.  My husband savored the lamb dish and I had to take a small bite, it was incredibly tender and full of flavor.  I ordered the short rib and just couldn't stop eating the dish.  The short rib fell apart, the sauce was seasoned perfectly and the beautiful baby carrots added color and flavor to a perfect dish.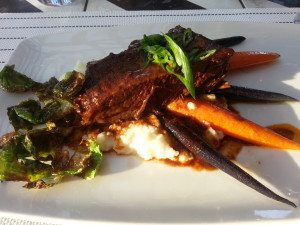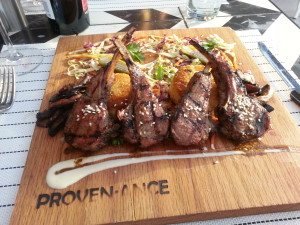 I love to find great restaurants and my favorites are the small chef owned cafe's.  Provenance tops my list.
Eat Well and Travel Well,
Terri