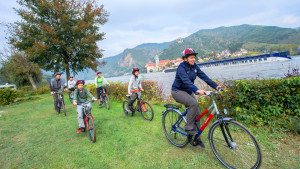 Adventures by Disney has recently announced a partnership with the luxury river cruise line AmaWaterways.  Disney will be offering family river cruises on the Danube river starting in July 2016. The trips are now open for booking and I believe are going to fill quickly.
River cruising is hot right now and is mainly for adults, but now families are going to be able to join in on the fun.  AmaWaterways is having a ship built that is more family friendly with cabins that will accommodate a family of 3 and adjoining cabins  to accommodate families and multi-generational trips.
There are 4 itineraries being offered in July 2016 and 1 itinerary in December to experience the Christmas markets.  Traveler's will visit 8 destinations in 4 countries, Germany, Austria, Slovakia and Hungary with options for pre-cruise and post-cruise stays in Prague.
The cruises will offer family excursions and activities just for the kids, strudel making in Austria, Goulash cooking on board, kids movie night and karaoke for teens.  Biking will be available in each village so families can bike along the river. While the adults can enjoy and savor the local beers and wines from the region.
Disney will be providing Disney staff on board, but no character's on board.  The minimum age for children to travel is age 4, but the recommended and suggested age is 8 and above.
River cruising is very different from the large cruise ships most families are accustomed to.  River boats are smaller, more intimate and provide guests the opportunity to feel the heartbeat of these countries.  While getting out into the villages meeting the people and learning the culture.
I am excited for this new opportunity for families to now have the chance to experience river cruising and Adventures by Disney is a great way to travel as a family.
Hope to see you getting out there and traveling,
Terri