Anaheim, California is becoming a city of craft breweries.  The mayor has worked hard to open the city to these micro brewers.  There are so many now, there really is brewery trail around the city. So let's discover a few more, and one in South Orange County.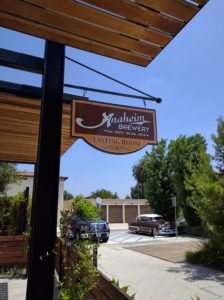 Anaheim Brewery is located in the historic district of Anaheim.  A neighborhood that has seen a revitalization in the past few years.  The brewery originally closed in 1920 due to Prohibition.  It has been a long road back, after a 90 year hiatus, the brewery re-opened in what use to be a Packard Car Dealership, next to the Anaheim Packing House.
The brewery is open and airy with a long bar that overlooks the tanks.  The outdoor patio seats about 100 and gives a nice beer garden feel.
In talking to the employees, they shared  a few stories and the history of the bar.  The wood was salvaged from the Covered Wagon Saloon that was located nearby.  While excavating the outdoor space to build the patio, hundreds of old license plates were unearthed.  They were rusty and deteriorating.  The license plates have been moved next door to Umami Burger and left rusty and exactly as they were found, creating some very interesting architectural pieces hanging on the walls.
The beers are very drinkable and most are German style.  You can easily spend a few hours learning the history and enjoying some nice beer.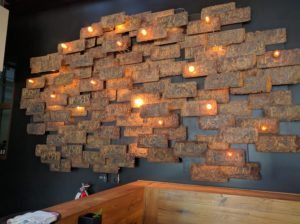 The brewery doesn't serve food, but there is plenty to be found next door at Umami Burger or a short walk to Anaheim Packing House where you will find some great little cafe's.
Parking can be difficult in this area, so give valet a try.  At a mere $3.00, plus a tip, you won't have to drive around searching for the perfect spot.
www.anaheimbrew.com
Legends Craft Brewery
Legends Craft Brewery is a great brewery.  Tucked into an industrial area not far from Anaheim Stadium, this gem adds another great brewery to the brewery scene blossoming in Anaheim.
Jay opened the brewery in January 2016 after being a home brewer for 18 years. The tasting room is light and bright and filled with wood, tables and lots of seating. Once you settle in, you will have a tough decision on which beers to try. There are a few unique beers that you must try if they are on tap.  The Double Stuff is a milk stout and was brewed with 8 lbs of Oreo cookies, the beer is a chocolatey milk stout, that has a deep, rich and creamy flavor. The Wild Child is a Belgium Wit and the recipe is based on a favorite dessert that Jay makes, Bananas Foster.  The beer has undertones of banana and caramel, it is smooth and easily drinkable.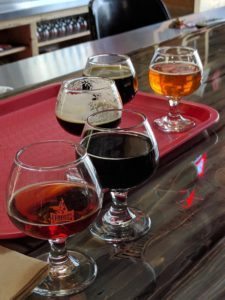 https://www.instagram.com/legendsbeer/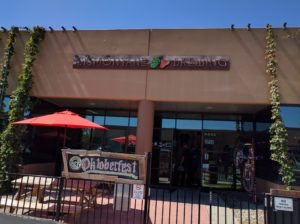 Cismontane Brewery, Rancho Santa Margarita
Do you remember the TV show Cheers?  This brewery reminds of that same experience.  On the day of our visit, the tasting room was filled with friends, locals and their furry friends, where it seemed everyone knew each other.
We arrived right after they opened and it was fairly quiet and quickly became busy and bursting at the seams with people hanging out and enjoying some nice beer.
Cismontane means, This side of the mountains, which is very reflective of Southern California and the location of the brewery. The beers represent the unique culture of Southern California.
A tasting flight includes 6 3 oz pours.  The beers are quite nice and refreshing.  For the wine lover in the group The Mesa is brewed with 30% Riesling wine grapes and 70% Pilsner, a lovely beer on a hot summer day.
The Black's Dawn is a coffee stout, the beer is a deep chocolate color with layers of rich coffee.
Cismontane also has a tasting room in Santa Ana, California.  The location is unique so let me help you.  It is located on the side of a Pep Boys shop.  Funny I know, but that is where you will find it.
Happy Beer Trails,
Terri
Save
Save