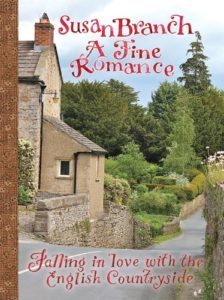 "Reading gives us someplace to go when we have to stay where we are." ~ Mason Cooley.
There are times when we all wish we could pack our bags and set off on undiscovered lands, a quick getaway or an adventure.  When life gets in the way or the budget doesn't allow, sometimes the next best thing is a travel book, that allows us to escape without leaving home.
I recently read "A Fine Romance" by Susan Branch and it is one of those books that will sweep you away and give you a front row seat to an adventure to England.
Susan takes you on their personal journey to England, starting with a transatlantic journey with Cunard Cruise Lines.
She writes the book in journal format, a day by day account of an amazing trip. Each day there are new discoveries.  I promise you the book will take you right along with them.  They stay in quaint little villages, walk the cobblestone streets and live as a local.  She shares the tiny little shops they discover and the treasures they find, the pubs they dine in and the footpaths they explore all while finding hidden gems along the way. Susan shares English history, a visit to the home of Beatrix Potter, homes of other respected authors and castles. A Fine Romance will leave you wanting to pack your bags, go and follow in their footsteps.
Along the trip, you will find yourself laughing at the little stories like watching the camera lens roll off the roof of the car as they drive away from the side of the road, all the while hanging on to the dash, white-knuckled as they drive country roads. They try to find a place to turn around and go back, hoping the lens is unhurt.
You can smell the rain, feel the culture and people as they travel.  Take time to hang on each page, admiring her artwork, the tiny little drawings that complete the story and the quotes she weaves across the pages.
Throughout the book you will feel as though you are sitting in a little cafe in the Cotswold's next to an old stone fireplace with a roaring fire, chatting with your best friend over an English cup of tea, scones, jam and cream.
As you close the book, you will want to go right back to the first page and start again, sure that you missed a drawing, a quote, or little story. Also because you don't want the journey to end.
If you need a vacation and can't take one, A Fine Romance will take you away.  Crawl into the pages with a cup of English tea and just live on each one while exploring the exquisite English countryside without leaving your couch.
Happy Travels whether you are on the road or deep in the pages of a great travel book.
Terri