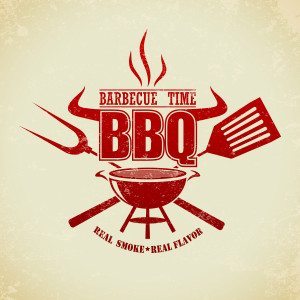 Welcome Back for our second round of great barbecue in Orange County, California.
For this trip we are heading to Orange, this is a little town I love and if you haven't been, you really need to check it out.  Old Towne Orange is filled with little Mom and Pop cafe's, antique stores and little shops.
Not only is Old Towne fun to explore, you will find some great BBQ.
Our First Stop is Brew Hawg.  This little place is tiny, but has huge flavors that pack a BBQ punch.  Brew Hawg is tucked tightly into a strip mall, with just a few tables inside.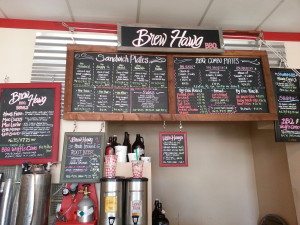 The menu is fairly large, so you will have a lot of choices.  The favorites are, The Knuckle Sandwich,  Mmmmm goodness in every bite.  The sandwich is served on a Hawaiian roll and filled with smoky, tender Pulled Pork, gooey melted cheese and a fried egg that adds more juicy goodness to the pork as the yolk breaks and creeps into all the little crevices.
The Duke, is pure heaven on bread.  The sandwich is served on Texas Toast and is stuffed full of tender smoky pulled pork chunks and creamy cheesy mac and cheese.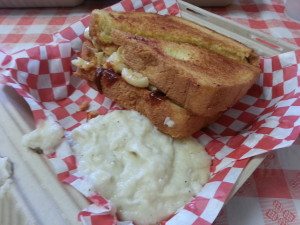 The smoked garlic mashed potatoes are fantastic, creamy mashed potatoes with a garlicky bite, you just can't get enough.
Another favorite is their waffle cone sandwich.  They take a crispy waffle cone and layer it, starting with the cheesy Mac and Cheese, toss in the meat of your choice and topped with mashed potatoes, it is yummmmy!
You can find Brew Hawg at www.brewhawg.com/
The other favorite in Orange is Smokey Fred's BBQ.  Another small BBQ spot, in a very plain little strip mall, Smokey Fred's is owned by Fred Rea and family.  They are open for lunch and dinner along with takeout. The owners are really friendly and want their guests to be happy with the food.  The meat at Smokey Fred's is smoked low and slow and is one of our favorites.
The interior of the restaurant is fairly small, with a few tables.
The Danewich is a plate with 3 sliders served on sweet Hawaiian rolls, you choose the meat.  I went with the pulled pork.  If a BBQ place can't do pulled pork or ribs there is no point in trying anything else.  Smokey Fred's does it extremely well.  The pulled pork falls apart and has a beautiful rich smokey flavor and paired perfectly with the sweetness of the Hawaiian rolls.  The 3 sliders were served with a side of tangy slaw that adds a bit of acid to cut through the richness and sweetness of the pork and rolls.  They offer two homemade sauces and both of them were scrumptious.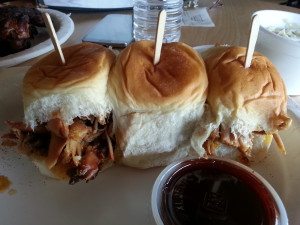 The Rib plate was done very well, the ribs weren't smokin' hot, more room temperature, but had a nice smokey flavor and when you add the sauces, it is a beautiful plate of BBQ goodness.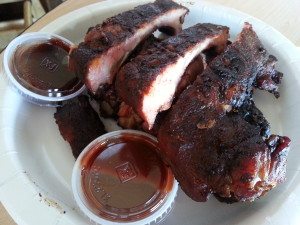 You can find Smokey Fred's at www.smokeyfredsbbq.com/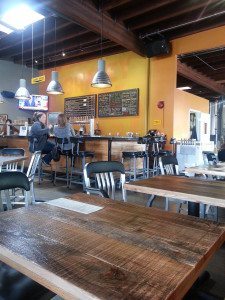 Now I am going off the BBQ path just a bit, but you will be surprised.  When you have BBQ usually you want a nice brew, if you are a beer drinker.  A microbrewery in Orange County, specifically Costa Mesa is a real treasure.  You may wonder why I am covering a brewery when we have been talkin' BBQ, but Barley Forge is a fun spot for both BBQ and Brew and they don't even advertise as a BBQ joint.  The beers are fun, unique and it is a cool spot to sit with friends and spend some time tryin' the beer.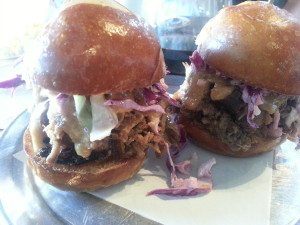 To pair with your beer,  you must order the Pulled Pork Sliders.  They are served on a nice roll, filled with tender, melt in your mouth pulled pork, topped with a crunchy, tangy slaw and a beer mustard style BBQ sauce.  I can't get enough of these little gems.
If you aren't a beer drinker, no worries, they have wine and housemade soda's.  The menu has a few other food items on it, but I can't tell you what they are because every time I'm there, I immediately order the BBQ Pulled Pork Sliders.
I have visited a few other BBQ spots around the O.C, but was so disappointed that I didn't want to waste your time in posting them so you had to read about them.
I have a few more spots to try and will write about them in the near future, one I slightly crossed the county line, but the food was so good, I have to share it with you.
If you have a favorite, please comment and let me know, so I can give it a try once or twice.
Eat Well,
Terri