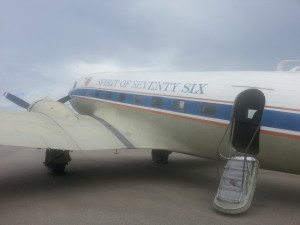 I want to share a hidden treasure in Los Angeles with you.  If you are an aviation enthusiast, you will love this not so little gem.
If you find yourself in Los Angeles in or around LAX give yourself a little extra time and visit the Flight Path Learning Center and Museum.  If you have guests that you are picking up or dropping off at LAX, take them.
The Flight Path museum is located on W. Imperial Hwy. and sits on LAX property.  Flight Path is not an airplane museum, but a museum that tells the story of aviation history through it's exhibits of airlines that have come and gone, flight attendant and pilot uniforms through the years, and the history of LAX.  You will find exhibits showcasing airline china when flying was fun and an experience.
They have an old DC3 plane on the property.  With a docent you can step aboard, walk the aisle, take a trip back in time and sit in the cockpit.
The docents are knowledgeable, passionate and excited to share their love of aviation and the airline industry.  The docents we met and talked with all have one common thread, they were flight attendants, married pilots and worked in the industry.
One gentleman who has a deep love of aviation has loaned the museum his collection of metal airplanes all of which have been or are planes flying our skies today.  Another glass display case houses his treasured models, built to perfection with his own hands.  Take some time to appreciate his work and the history shown through these models.
Ethel Pattison who spearheaded the efforts with a small group of volunteers to create this fascinating museum.  Ethel is 90 years young and we were privileged to meet her on our visit.  Her enthusiasm is infectious and you quickly see why this museum is successful and fun.
Parking at the museum is easy, there is no fee for the museum, but they do have a small box up front for donations.
I challenge you to spend time with the docents, they will teach you something you didn't know and be sure to ask them to show you a picture of something at LAX and explain how the letters LAX are incorporated into the architecture and design of the airport.  You will be surprised.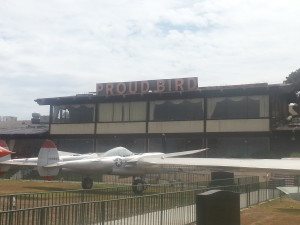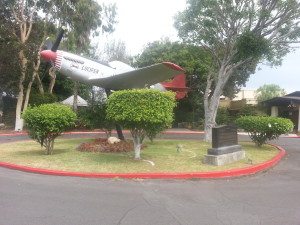 To continue your aviation day in L.A, head over to the Proud Bird Restaurant.  Located right near the airport, this L.A icon has been in business since 1967 and proudly sits near one of the runways at the busy airport.  Inside you will find aviation history through photos, the old replicas of planes gracing the lawn and large windows that allow you to watch planes take off and land.
Do your best to get a table next to the window as they have two headsets per table where you can listen to the tower and air controllers  talk to the pilots, it is fascinating.  We listened to several planes that were about 10 miles out and the controllers telling them to get in the pattern and which runway to land and then you will see that plane come in, it is so much fun.
The food is American and  good, you will find a club sandwich, hamburger, a few seafood dishes and chicken.  They do offer a lunch buffet which is extensive and very nice.  Service was great and done with a smile.
If you read reviews on TripAdvisor, you will see reviews that say the restaurant is tired, in need of paint etc. It is, but in a quirky way, the restaurant feels like you are stepping back in time, one of old aviation history, but that is about to change.
The restaurant is family owned and they have been renegotiating their lease for several years with the city and LAX.  Obviously the family didn't want to spend money on renovations only to find that their lease was not being extended.  It was touch and go and it looked like the restaurant was going to close, but with the support they received from the community and patrons, the city and LAX granted a new 20 year lease.  So, the time has come, the restaurant will be closing for several months starting in January 2016 and will be completely renovated.
If you happen to visit before January, look to the left as you walk through the door and you will find several artist renderings of the new Proud Bird.  The restaurant will be modern, hip and beautiful.
I hope you have fun on your day getaway in L.A
Travel Safe,
Terri