I love discovering treasures in my own backyard and I want to share the latest one with you.  I hesitate for a second, but will.  I just know once the secret gets out, I may miss out on a seat the next time I want to go.
If you are coming in to Newport Beach on vacation,  a weekend getaway or are a local and want something fun to do to get out on the water, you are going to love this.
Whale Watching with the best ~ Newport Coastal Adventure
We have all seen the big whale watch boats that pull out of Newport Harbor with loads of people standing at the rails, on top, scouring the sea and hoping to glimpse a dolphin or whale.  These boats are just not my cup of tea and that is why I haven't gone whale watching off my local coast.
I love the small, up close and personal experiences where I'm not in the middle of the cattle call.  With Ryan and Newport Coastal Adventures, you will experience, the small boat tour that I love.
Ryan recently started his business and I know he is going to be hugely successful.
You will meet him at the boat, next to the ferry landing on Balboa Island.  Give yourself a little extra time as parking, especially in the summer months can be a bit crazy on this little island.  You can usually find something on one of the residential side streets, watch the parking and no parking signs.  Another option for you is to park near the Fun Zone on the peninsula and take the ferry across to Balboa for a nominal fee.
The zodiac boat only seats 6, and the seating is very comfortable.  Once you are settled in, Ryan welcomes you aboard and your adventure begins.  On the day we went out, we cruised out of the harbor, passed the jetty and took off out to open water.  Our morning offered seas that were extremely calm and we never got wet, so feel free to take your camera. But put it down occasionally and just soak in the experience.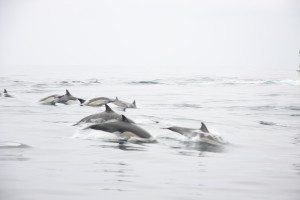 Ryan quickly found a pod of dolphins and we end up quietly in the middle with them jumping and playing all around us; so close you just want to reach out and touch them or jump in and swim with them.  We were able to experience a dolphin stampede which I had never seen before, it was incredible.
Reluctantly we leave the dolphins and Ryan sets his sights on finding a whale or more, which despite the simple fact that we are at the tail of the whale season…..pun intended, he finds one.
We come upon a Minke whale which is the second smallest of the baleen family.  We stop and sit, enjoying the sheer peacefulness of the ocean,  we see it come up and quickly go back under.  Hearing a small noise, we turn to see the whale peek up and dive directly under the boat, where he shows his white belly and shyly swim off.  I put the camera down and just savored the moment.  We watch him for a bit and we are off.
Ryan finds another pod of dolphins and this one has several performers, ready to entertain.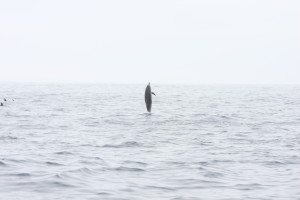 The ocean is quiet and the discoveries while sometimes small are an experience.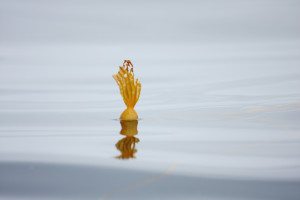 The sun begins to peek from behind the gray, thick marine layer and it is time to head back in.  I'm not ready, I would love to stay out all day, but others are waiting for their own discoveries and personal experiences.
Ryan is a true professional; he is knowledgeable, friendly and works very hard to give you an experience you won't soon forget.
Newport Coastal Adventures in my opinion is the only way to go.
Check out his website for pricing and to book your own whale watch experience. I will definitely join Ryan again and again to visit the creatures living in our local waters.
http://newportcoastaladventure.com/
Have fun!
Terri