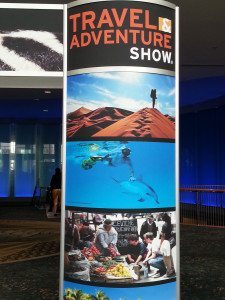 I had the opportunity to check out the Travel and Adventure show in Long Beach this past weekend.  Packed with travel vendors and tourism boards, the event was fantastic.
Several stages were set up around the room with speakers giving travel tips, destination information and the tastes of travel.  Rick Steves, Samantha Brown from the Travel Channel and Pauline Frommer from Frommer's Travel Guides to name a few; they were on stage talking everything travel.
The Taste of Travel stage was pretty popular.  Showcasing Chef's from around the world and special destinations; Chef's prepared their signature dishes.
I love everything travel and it is the reason I keep my fingers in the business.  There is nothing better than having a client return from a trip and hearing how much they loved their experience.
Travel experts were also on hand sharing changes in travel and new tips and tricks.  Here are a few that I picked up regarding your air tickets.  We all dread dealing with the airlines and trying to book a ticket can be difficult and very frustrating.  I hope you find these helpful.
Airline Tips:
1.  The best day now to purchase airline tickets is Sunday.  Tuesday's use to be the best, but that has changed.  Traveler's can expect somewhere in the ballpark of a 19% savings when buying on a Sunday.
2.  When booking flights for domestic travel, book your air tickets 57 days prior to travel for the lowest fares.
3.  When booking international travel air tickets, 171 days prior to travel should give you the lowest fares.
Most of you will see changes to your frequent flyer accounts.  The best way to earn miles is going to be changing and will be done through credit card purchases.  However, the cards that will offer the best travel points and opportunities for travel are cards Not affiliated with a specific airline.
Every year travel insiders come out with the top destinations for the years travel.  Again, they are all talking about the best destinations for 2015.  Over the next few weeks, I will share a few of these destinations with you.
The Travel and Adventure show still has a couple of dates left and both are on the East Coast.  If you are in these areas, give it a go.  You may be inspired to think outside the box and learn of a new destination for 2015 or your bucket list.
Washington D.C ~ March 7th and 8th
Philadelphia ~ March 21st and 22nd
Happy Travels,
Terri