The Oak Grill, located at The Island Hotel in Newport Beach, CA deserves your attention.  In the past I think hotel restaurants lacked a personality and ambiance.  Not the case with Oak Grill.
The hotel is right across the street from Fashion Island where there are some great restaurants, Red O by Rick Bayless, Roy's Hawaiian Fusion founded by Roy Yamaguchi and Fig and Olive, founded by Laurent Halaz featuring Chef Pascal Lorange.  Oak Grill is equally if not better than a few on the list above.
Chef Marc Johnson honed his skills working at the excellent Studio at The Montage in Laguna Beach and also Mastro's Ocean Club.  Chef Johnson is sourcing and using fresh, local and seasonal ingredients to create innovative dishes with new takes on classics and classic preparations.
The restaurant has indoor seating and a bar which is very comfortable, but my favorite is the patio.  Sitting on the patio we were surrounded by beautiful plants and huge trees providing a canopy with lights dangling from the trees, creating a cozy spot to dine.  Honestly, we forgot we were in the city and across the street from a mall.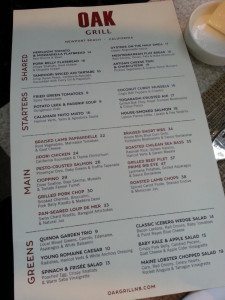 The service was excellent.  Our server was passionate about the food, offering some recommendations, personal favorites along with some nice wines from the wine list.
We were staying at the hotel and had enjoyed a beautiful cheese plate prior to dinner, so we wanted something light, with a nice glass of wine.
The Pork Belly flatbread was recommended and we went for it.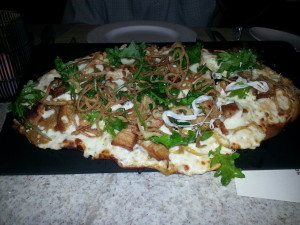 I can't even begin to tell you how amazing this dish was.  The pork belly was full of flavor, cooked perfectly and  set on top of a thin crunchy crust with cheese and topped with crunchy onions and a creamy chipotle sauce.  My mouth is watering just thinking about the dish.  I'm so glad this restaurant is close by, so I can feed my addiction.  Add in a glass of Cherry Tart Red wine and have the perfect meal.
Kudos to Chef Marc Johnson and his staff, job well done!
On another quick note, I arrived at the hotel around lunch time to meet a colleague.  We happened to have lunch at Oak Grill as well.  We dined on salads, where she ordered the special, which was fresh greens, tomatoes and crab, the salad needs to be added to the menu.  I opted for the Asian Chicken Salad.  The greens were extremely fresh, the chicken tender and the salad has soft noodles and the perfect balance of textures, with the dressing light.  We decided to share the tomato, mozzarella and basil flatbread as a starter.  Which sounds much like a Caprese pizza, but trust me, this one had roasted tomatoes which added another level of depth and flavor that you don't get with basic diced tomatoes.  It was scrumptious.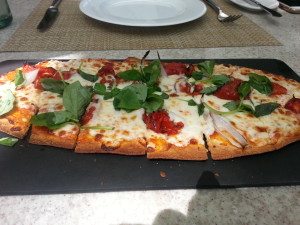 The lunch menu is different than the dinner menu, both with great options.  The patio is a great spot for a business lunch as well.
I can't wait to go back, hope it is soon.