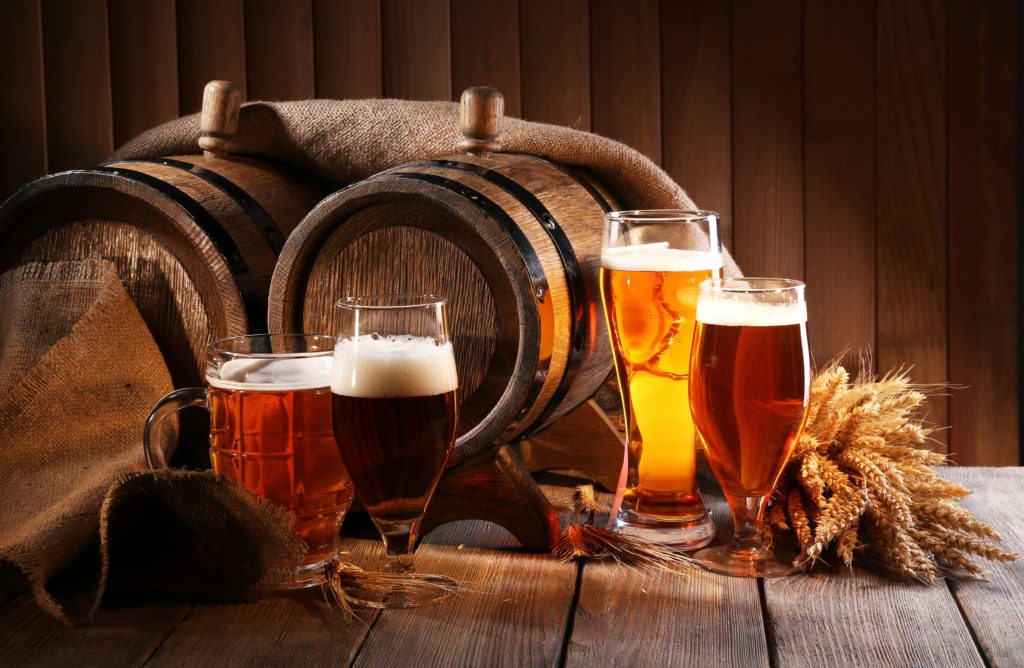 Cheers!  After having explored quite a few Mom and Pop BBQ joints around Orange County, I thought it would be fun to share with you some favorite microbreweries in the O.C to go with the Q.
I have to admit, I am not a beer drinker, so what qualifies me to write about the micro brews you may wonder?  I visit with beer connoisseurs and many of these micro breweries offer more than beer, which should make you non-beer drinkers happy.
So let's hit it,
The micro brewery culture has been around for a long time and they seem to be popping up everywhere and  Orange County, Ca has some great places to visit and try the local beers.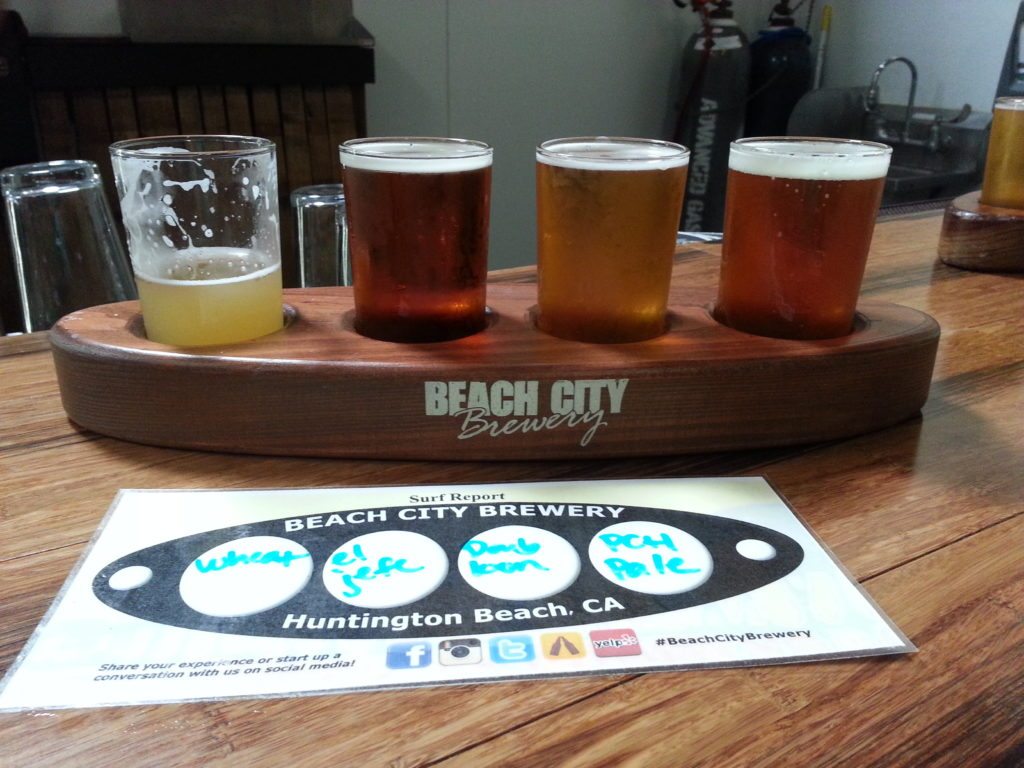 Surf City, Huntington Beach has several and I haven't been to them all, so watch for updates. ****See an Update on this brewery below.
Beach City Brewery is a fun spot and is the first brewery to land in Huntington Beach.  You won't find ocean views, but a very cool spot with ocean breezes and no sand.  Located in an Industrial area about 3 to 4 miles from the beach, the microbrewery is a very relaxed, kickback, urban place to hang out.   The have a nice bar with picnic tables spread around the brewery where you can hang with friends.  The staff couldn't be nicer and they are extremely helpful in guiding you to pick your favorite brews to try and maybe some you don't typically drink, but will find you like.
The beer selection is really nice and they offer a variety of IPA's, dark brews a few saissons and limited runs.
Follow them on Facebook to see Food trucks that may be partnering for an evening or fun event.
The brewery only serves beer, no wine and unless there is a food truck, they don't have a kitchen to supply food.
Find them at http://www.beachcitybrewery.com/about-us/
Next stop is Barley Forge in Costa Mesa, Calif.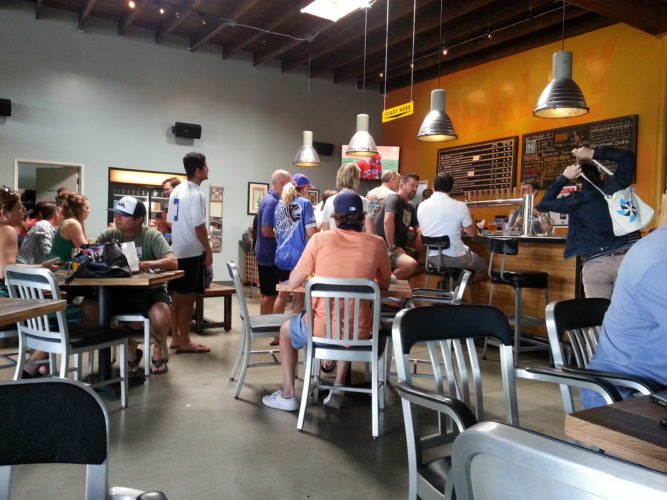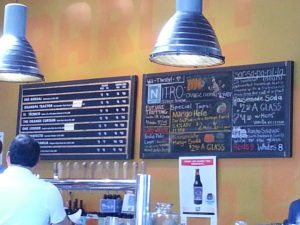 Barley Forge is a hidden gem of sorts, located in a small industrial area off of Baker and Randolph St. in Costa Mesa,  you will find the craft brewery at the end of a building with limited parking, but don't let that deter you.  They have a really nice tasting room and some very cool beers.
Grab a bag of popcorn  to help soak up the suds, water for those that prefer or house-made soda and wine for us non-beer drinkers.
Barley Forge has a really nice food menu too, which makes it easy to spend a few hours.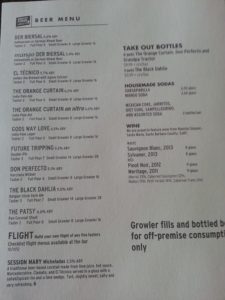 While the brewery is not a BBQ joint, let me tell you they have the best pulled pork sliders that compete with some of the best around the county.  You get 2 sliders per order and they are served on a nice soft roll, with tender, smokey pulled pork, a nice fresh crunchy slaw and a beer mustard sauce.
The Chili is pretty darn good too, and pairs perfectly with a nice dark ale.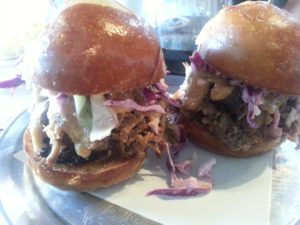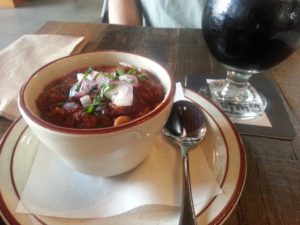 Barley Forge:  http://barleyforge.com/
Heading on in to Inland Orange County, our next stop is The Bruery in Placentia, CA.
The Bruery is another spot that is a bit  hidden in an industrial area, but is right off the 57 freeway and Orangethorpe, on Dunn Way.  You can't miss the silo with The Bruery painted on the top.
The Bruery has a nice size tasting room and it fills quickly.  There are a lot of tables and nice long bar.  The room is filled with barrels, tables, and a lot of dark woods to warm up the joint.
First head to the bar to make your selections and take your tasting tray to a table and settle in for a few hours. They have some nice beer and at the time we were there they were offering a few limited brews which were nice and smokey and aged in bourbon barrels.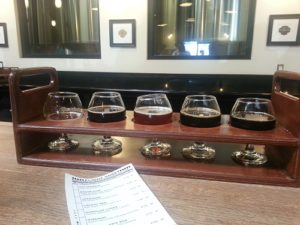 They do bring in Food trucks on weekends, check their schedules online or Facebook. My only disappointment was the lack of enthusiasm with the bartenders, they didn't seem to want to interact, explain their beers or care about what you preferred.  This is the first time we have encountered this type of staff, it's a bummer.
The Bruery:  http://www.thebruery.com/
Our last stop for today is Bootlegger's Brewery in Fullerton, CA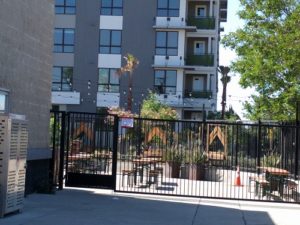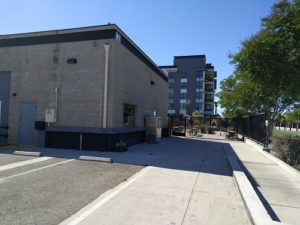 Located near downtown Fullerton on the outskirts of the SoCo district, on Highland Ave., off Commonwealth, this microbrewery has some fantastic beer.  The urban area has lots shops, little cafe's and eateries nearby in downtown Fullerton.  The outdoor patio space is perfect for a warm summer afternoon, of lounging and enjoying a cold one.
The Black Phoenix Stout is one of their most popular beers and is offered year'round.  It is a nice thick dark coffee and chipotle stout and pairs perfectly with grilled or smoked meats, brie and Gouda cheese. Buy a few bottles, head home and grill yourself a burger with brie cheese and you have a great summer meal.
They don't serve anything other than beer, and no food.  However, right next door is Two Saucy Broads Pizza.  You can call on your cell phone and order a pizza and they will deliver, or get yourself up and walk or stumble across the parking lot and pick up a slice or two.  I can tell you the beer with the pizza, yum!!  The Pizza by itself is pretty amazing too.  Voted one of the best pizza places in Orange County.
Bootlegger's:  http://www.bootleggersbrewery.com/
Two Saucy Broads: http://www.twosaucybroadspizza.com/
I hope that gives you a few to try and have fun.  There are quite a few more on the list and over the next month, we are going to set out again, try them and I will add more for your list.
Until next time, Cheers!
Terri
*** We went out brewery hopping today for the next blog post.  Got to talking to a couple of people and learned that Beach City Brewery is now closed permanently.  A bit of a disappointment, it was a cool spot.  It has been purchased by Beachwood BBQ in Seal Beach.  Great BBQ by the way.  They are going to use the brewery to brew only, there won't be a tasting room.  So check this one off your list, it is to late to visit.