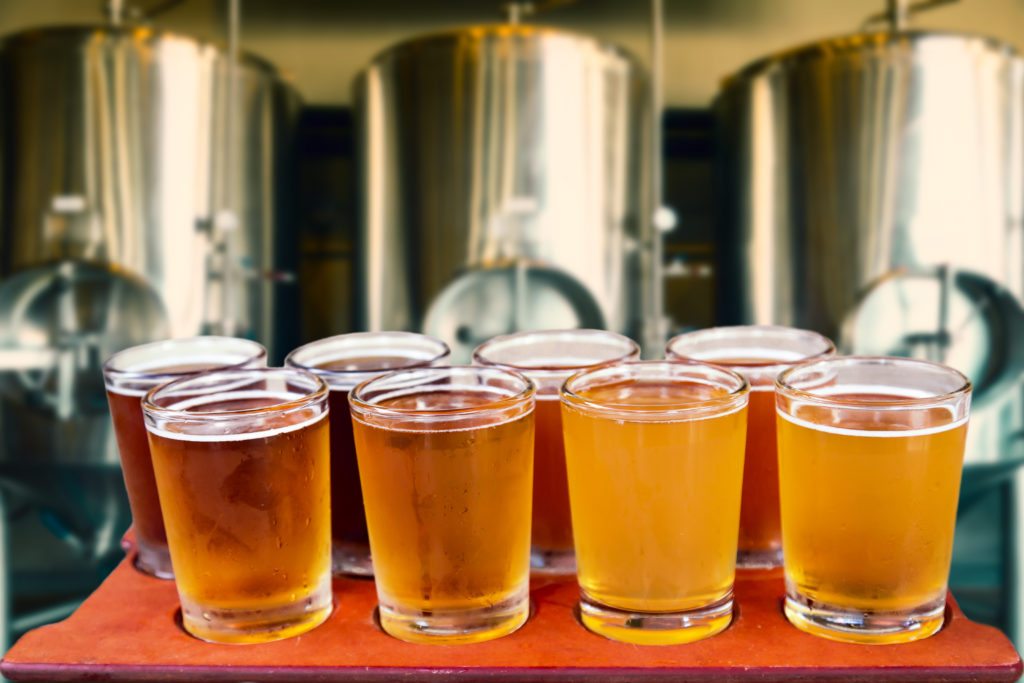 How time flies, back in April I posted about some great Orange County, California breweries and promised to review the rest of them soon.  Here we are in August and I'm just getting around to sharing a few more fun breweries.  Just when I think I've hit them all, more seem to be popping up.
When you think of Anaheim, California, let me guess Disneyland comes to mind?  While Anaheim is home to the mouse, it is one Orange County city that has become alive with breweries.
Let's get started,
Phantom Ales, Anaheim, California
www.phantomales.com
https://www.facebook.com/AlesCiderCellar
Phantom Ales is located in an Industrial area, nestled on a cul de sac.  The brewery is not only a microbrewery, they also have a kitchen which serves some really nice appetizer's and snacks.  For the home brewer, they have kits and plenty of supplies.  Phantom Ales also offers home brewing classes.
The beers are quite nice.  The brewery is making some meaty, full bodied coffee stouts, IPA's and the double IPA is light, and hoppy.
The brewers are making some great ciders.  The ciders are barrel aged and some taste like a  fine sparkling wine, perfect for a warm day and easily drinkable.
Phantom Ales has a kitchen on site and they offer some tasty dishes to help soak up the beer.  The mac and cheese is the ultimate in comfort food.  The saucy is cheesy and creamy and overflowing with chopped Applewood bacon.
Noble Ale Works, Anaheim, California
http://www.noblealeworks.com/
Another great Anaheim Brewery tucked in to an Industrial area not to far from Anaheim Stadium and a stones throw from Honda Center; a great spot to enjoy a beer before a Baseball or Hockey game.
Noble Ale Works has a good size tasting room with a few tables and a long bar in the side room which overlooks the tank room.  They have a huge big screen TV perfect for watching a sporting event with a beer or two.
The beers are unique, some quite hoppy,  the dark beers have a nice texture and thickness.  You will certainly find a favorite here.
The tasting flights give you 5 beers, of your choice.  Their Nose Candy beer is a 2015 Bronze Medal winner, is a Session IPA, light bodied and will remind you of a mix between pink Nerds, Airheads and a melted Big Stick popsicle.  Man's Milk is Noble's version of Milk Stout.  It is served on Nitro which gives a different taste.  The beer is black and gives notes of dark chocolate. The Naughty Sauce beer is a creation in partnership with Portola Coffee.  The beer is creamy, yet full-bodied and gives a hint of pecan pie.
They do have food trucks pop in if you are looking for food.  We found the staff to be friendly and more than happy to explain their beers, flavor profiles and tastings that fit your wants.
Bottle Logic, Anaheim, California
http://bottlelogic.com/
Bottle Logic, another Anaheim treasure is not far from Phantom Ales if you want to give them both a try in the same day.  It is a really cool spot to hang out and enjoy some great beer.
The brewery is a cross between Big Bang Theory and Nerdy chic.  The staff is really friendly and very efficient.  This brewery gets packed.  The day we visited, the line was out the door and it stayed that way our entire stay.  The staff manages to serve guests at the bar and keep the line moving.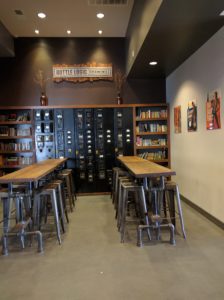 They have a nice outdoor patio, a good size indoor bar and tables along with a few communal tables in a side alcove.  They are going to be expanding in the near future.
You will find two tasting path options, The Constants and a Specialty Beer list.
The Constant flight gives you 5 tastings, starting with their Blonde Ale, which is fruity and just a good smooth everyday beer.  Common Knowledge is a tad sweet and very smooth.  It is a traditional steam beer giving it a high carbonation.  The Lagerithm is a Dark American beer, while really tasty it is not as dark as a porter, but nutty and delicious.  The Calf Life is a Milk Stout and finish with the Double Actuator a Double IPA.  We added in a few extra's, the Cobaltic Porter is a Baltic Style Porter.  It is a nice coffee flavored beer and very smooth.  The Neighbor of the Beast is their Black IPL.  Looking for something unique, the Teacursion is extremely popular and is their West coast IPA, blended with Earl Grey and Jasmine tea.
Bruery Terreux, a new one in Anaheim, California
http://www.brueryterreux.com/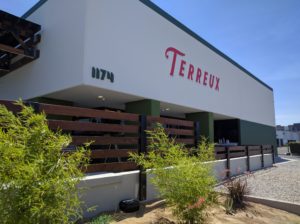 Bruery Terreux is the sister brewery to the Bruery in Placentia, California, but these two sister's couldn't be more different.
Bruery Terreux is rustic, yet trendy and a really fun spot to be for a few hours.  The tasting room is fairly large and roomy and they also have a fantastic patio with plenty of seating.
The Bruery opened on July 8, 2016 and is pouring wilds and sour ales, all barrel aged in the barrel room.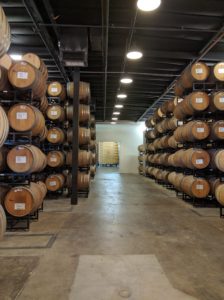 You will find 20+ beers on the flight sheet.  A tasting flight will give you 5 2oz pours and each pour ranges in price from $1.00 to $3.50.  You will have decisions to make from the Jardinier, a Belgian Style Pale Ale to the Berliner Weisse an oak aged sour blonde Saison to an Imperial Wit with notes of raspberries.
The Jardinier is a nice sour beer, but fruity.  If you don't love a real hoppy beer this one is a great choice. The Loakal Red is a hoppy American red ale aged in oak.  Random Summer is a barrel fermented Saison.  This beer is good and has a soft finish.   Beret is an Imperial Wit, it tastes like a sour but not bold and not real tart.
Share This, a sturdy Imperial Stout with coffee, nice and full bodied.   They are even pouring a Cordial BBLS, tastes just like a cherry cordial.  A stout beer blended with cacao nibs, cherry and vanilla.
Check their website and calendar for their food truck schedule.  Bruery Terreux is something new, exciting and a great addition to the Anaheim Brewery scene.
Again, just when I think I have hit the end of the OC Breweries, more pop-up.  It looks like there will be a few more posts to cover the other breweries.  There are still 8+ breweries to go and I look forward to sharing them with you in hopes you will find your favorite.
Drink Responsibly,
Terri