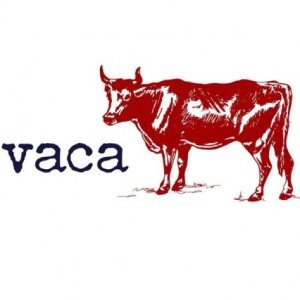 Chef Amar Santana has done it again, along with his partner Ahmed Labbate.
Vaca is amazing!!  In December I wrote about our dining experience at his Laguna Beach restaurant, Broadway by Amar Santana which we loved.
We experienced Vaca a week after its soft opening and wow, we were extremely impressed.  I had hoped to get this post out early last week, don't know where this first week of 2016 went.  All I know is that kicking the New Year off with dinner at Vaca was the best way to start.  I haven't stopped thinking about our fun, amazing food and drinks all week and am ready to go again.  In fact we will be there in February before a show at Performing Arts, and again in April for girls night out.
Vaca is a classy, modern, urban chic space in Costa Mesa, California, where the food shines and the cocktails are so cool.
We arrived a bit early for our reservation and were seated immediately.  Settling in, we notice the backs of the banquettes are covered in a fabric with one line jokes, so fun.
Opening the menu, we start exploring the cocktails.  Each one is unique and temptiing, how do we decide.  I was impressed that each cocktail has a letter next to it and at the bottom of the menu there are drawings of the glasses, so you can see the style and size of the glass in which your cocktail will arrive, genius!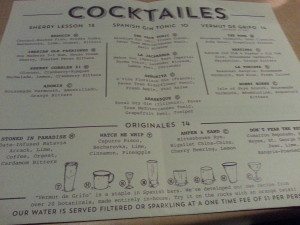 Our server arrives at the table, happy and excited to serve our table, we order our cocktails and surf the tapas menu having trouble deciding it all looks scrumptious.
The cocktails arrive and they are beautiful and taste well…..try them for yourselves, they are impressive.  I had the sherry cobbler, it was a bit strong, but I managed to down it.  The drink was nice and cold, really dessert in a glass. A bit tangy, a bit sweet and just the perfect combination.  Made with Oloroso sherry, Cranberry-Kumquat Marmalade, Lemon and Cranberry Bitters.  Bitters seem to be the new go to for drinks and Vaca does it so well. The Old Fashioned has pecan bitters and adds such a nice layer of flavor. The cocktail menu is unique, and creative, don't skip one or even two.
Our waiter is back and so knowledgeable about the menu; he knows each dish, the seasonings and preparation of each.  Before I go on, let me tell you how impressed I am with the training of the employees.  I said it after dining at Broadway and I will say it again.  They know how to train employees.  Throughout our night of dining, the service was excellent, staff knowledgeable; you can tell by the way the servers describe each dish they have tasted each and every one and have been taught the preparations.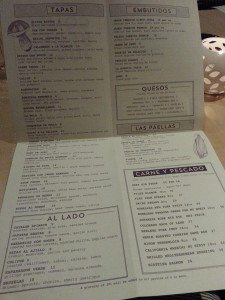 We decide on 3 tapas to start.  The bikini sandwich is a play on a panini, filled with tender and flavorful Paleta Iberica ham, manchego cheese and truffles.
There were 4 of us dining and it was perfect to find 4 small triangles of sandwich on the plate.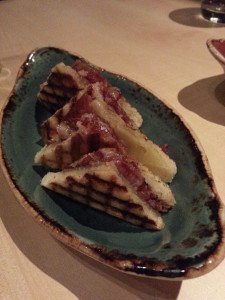 Next out were the delicate Datiles Con Jamon Serrano, simply, dates with blue cheese, serrano ham and local honey.  There was nothing simple about this dish.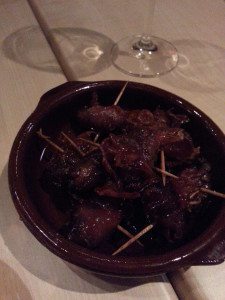 These little bites, YUM!! They were gone in an instant.  Cooked perfectly, the blue cheese doesn't overpower the ham, honey or dates.  More please!
The last tapas set on our table was the Canelon De Pollo Ahumado.  Beautifully smoked, melt in your mouth chicken filled the canneloni.  The dish was topped with a foie gras sauce and a sherry reduction.  We cut the canneloni into 4 pieces so we each had a bite.  The table went quiet, no one said a word and then, OMG, that was incredible.  Each of us wanted to lick the dish clean.  I would eat that dish all day long and never get tired of it.  I'm still thinking about it, tasting it in my head and wishing it was sitting in front of me now.  Next visit, this dish is all mine, I'm not sharing.  Want a bite, nope order your own.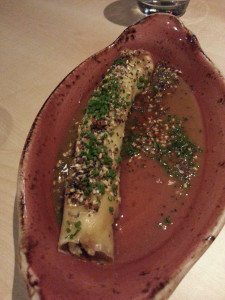 Cocktails gone…tapas gone….we aren't ready to go anywhere and wonder, more tapas or a nice steak.
We decide to split a steak between each couple, but first bring on the wine, a beautiful Tempranillo will go perfect with the steak.  Each couple orders a skirt steak to split and we choose 2 sides to share.
The steak was so well seasoned, you can cut it with a fork as if you are slicing butter and the flavor is deep and rich, with a nice grilled char.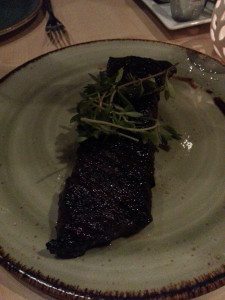 We ordered  Patatas Bravas, potatoes with a spicy seasoning, tomato sauce and a garlic aioli, who doesn't love steak and potatoes and these potatoes were spicy and paired so well with the steak.  Our last side was Brussels.  I think Brussels are making a huge comeback and many turn their noses up to these  little beauties.  Vaca treats these gems with respect.  They are roasted and served with a flavorful chorizo which is sliced and topped with a sherry gastrique.  I loved the crunchy outside of the brussels and the creamy inside and the bit of char on the outside.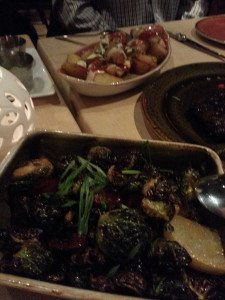 Okay, we are stuffed, we sit back to finish off the bottle of wine, and can't stop talking about each and every dish.  But you just can't leave without dessert, so bring it on.
The desserts all sound fantastic, Mmmm what to do?  We choose the Bizcocho Tres Leches cake to share.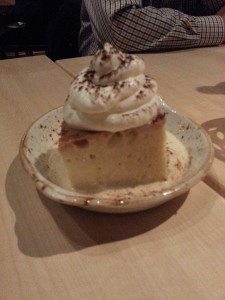 Sitting atop the milk with cinnamon,  was this buttery, creamy and tender cake. Not too sweet, but sweet enough to be the perfect ending to a perfect meal.
Also on the menu you will find several choices for Paellas, seafood, meat and vegetarian. There are plenty of meats and cheeses to choose from to create your own charcuterie plate.  I can't wait to explore the other dishes.
I wish this blog had smellavsion and tastavision, I would love to share every scrumptious and delicious bite with you.  Since I can't, you are going to have to go on your own.  If you are an Orange County, CA local, make your reservation and go now!  If you are coming into Orange County on business or fun, maybe in town to shop across the street at South Coast Plaza or heading to the Performing Arts, go, go, go!  I promise, you will remember your meal for a very long time.
The restaurant offers valet parking, or a parking garage nearby.  If you are heading to Segerstrom Center for the Arts, or South Coast Repertory, you can dine at Vaca and easily walk to both locations.
I don't know how Chef Amar managed to open a restaurant while currently competing on this season of Top Chef.  But my hats off to him, Ahmed and the entire staff, Vaca will be here for years to come and is the restaurant to watch this year.
Travel Well and Eat Better,
Terri