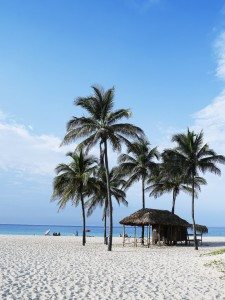 One of the top destinations I'm hearing a lot of buzz about is Cuba.
Experts and travel guides are saying this may be a good year to travel to this Caribbean Island.  With the President's recent announcement in regards to U.S citizens traveling to Cuba, now may be the time to go.
Cuba is the largest island in the Caribbean Sea.  The locals refer to the island as "El Cocodrilo", the crocodile, due to the shape of the island.  The Republic of Cuba surprisingly has more than 4000 islands and cays.  Varadero is known as Cuba's Cancun with it's beautiful white sandy beaches.
Going to Cuba and stepping off the plane is like taking a step back in time, a bit shabby chic, yet colorful and vibrant.  A country rich in culture and known for it's rum, music and art.  Cuba also has beautiful bays, beaches and mountains.  There are quaint cobbled streets, museums, tiny villages and an 18th century fort to explore.  The people of Cuba are warm and friendly and love to share their culture and country.
Cuba is known for being a country full of old historic and classic US cars.  Old Buick's, Ford's and maybe a Plymouth.  I love the old cars and you will too, especially if you are a car buff.  Up until last year the old Pre-1959 cars were the only cars the people could legally own.  The cars had to be on the road before Fidel Castro's 1959 Revolution and are the only cars allowed to be owned and resold.  Many of them have Russian engines, Russian parts and are held together with parts made from common household products, chicken wire and duct tape.
In 2014 the laws were changed and Cuban's can now buy new and used cars from State owned car dealers.  However, the locals cannot afford the 400% markup on the cars when their average monthly income is between $20 and $30.  So the old cars are going to be around for a while.  They add to the culture of Cuba and are fun to photograph.
If you aren't real adventurous and don't want to explore Cuba on your own, there are several very good tour companies that offer people to people travel or guided vacations.
Once the tourism to Cuba really blossoms, the landscape will change.  So if you are looking to see the authentic Cuba, 2015 may be the time to get out there.
Happy Travels,
Terri