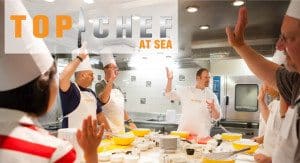 Are you a foodie and a Top Chef Junkie like I am?
Here is your chance to rub elbows and meet a few of your favorite Top Chef contestants.
Celebrity Cruises has partnered with Top Chef and Bravo media to give fans and food travelers a chance to experience Top Chef at Sea.
The 7 night Eastern Caribbean getaway will take place departing Miami on Nov. 14th 2015 aboard the Celebrity Reflection.  The cruise will feature 6 Top Chef participants; two chefs from this past season, Gregory Gourdet and Doug Adams.  The other 4 chefs are from previous seasons.
You will experience Meet and Greets, Quickfire Challenges, a dual cooking demo and a very special mouthwatering evening of Top Chef Night in the Main Restaurant.  Private Dinners, Private Cooking Classes along with Chef hosted Shore Excursions are available for an additional fee and have limited availability.
What a fun and fabulous way to live your own Top Chef experience.
Top Chef at Sea with Celebrity Cruises
I have attached a pdf. highlighting the experiences onboard, please right click and open in a new link to get the details.
Let me know if I can help plan this once in a lifetime Top Chef experience.
Happy Travels,
Terri