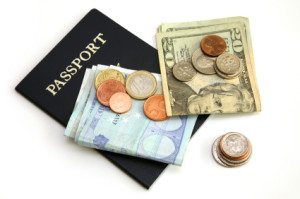 Is your passport coming up for renewal next year?  If so, I hope you find the following information helpful.  Even if it isn't up for renewal for a few years, please read on you may still find part of it helpful.
Do you remember the rush to get a passport back in 2007?  If so, those passports are all going to be renewing next year.  The National Passport office has predicted that 20 million people will be renewing their passports next year.  Their estimations have been spot on the last few years, so what does that mean for you?  You will experience a delay in getting your new passport processed.  If you are planning a trip abroad next year, think about renewing it now.  The time between Thanksgiving and a week before Christmas is a bit slower and right now they are estimating 9 to 10 days to process renewals.
As of Jan. 1, 2016 you will no longer have the option to send in your passport to have Visa pages added to your current passport.  They are offering and have offered for a while the option to have either 28 pages or 52 pages in your passport.  It is a small box you check at the top of the application.  There is no price difference in the passports.  If you travel abroad for business or are lucky enough to travel for pleasure a lot, opt for the 52 page passport.
The passports will soon have a new look with a new polycarbonate data page, laser engraving and enhanced photos.  They are working hard to add another level of security to the passports.
A good time to consider renewing your passport is 9 to 12 months prior to expiration.  Many countries require 6 months left on your passport when entering the country, don't get caught or stuck and not able to leave the airport because you are a day or even hours short of 6 months.  Renew ahead of time.
Should you have any questions, need to print a renewal form or make an appointment to renew, visit http://travel.state.gov/content/travel/en.html for all of your passport or travel questions.
Travel Safe,
Terri