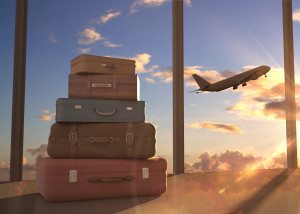 I love Vancouver, so any time I can spend even a day in the city, I will.  Vancouver is an active cruise port, especially in the summer months when ships are in and out sailing to Alaska.
We recently sailed into Vancouver and I had booked later flights so we could hit the town for a few hours.  In the past we have checked our bags at the port, picked them up later and head off to the airport.  The process is really easy.  This trip was so much easier and I want to share with you.
When checking your bags for day storage at the port, Canada Place, for just a few bucks more, you can have them transfer the bags to the airport for you.  The service is excellent and worth every penny.
They checked our bags, gave us claim checks and instructions on where to go at the airport to claim our bags. Doesn't get much easier.
We set out to explore beautiful Vancouver, grab some Poutine at Fritz's and enjoy a Hop on, Hop off bus tour.  Back at the train station, we hopped on the train without struggling with our bags, zipped out to the airport with only our carry on bags,.
Once at the airport, we went to the storage area, turned in our claim checks and they rolled out the bags on a cart making it so easy to roll it to the airline check-in counter.  The entire process couldn't have been easier and I hope you will take advantage of this service.
The bags were untouched and had not been disturbed.  With that said, just be cautious in the valuables you pack in your bags.  I carried anything of value with me in a small backpack and it was no problem.  Better to be safe than sorry.
If you are headed to Vancouver a few days before your cruise, I love the Fairmont Waterfront.  The hotel is beautiful and is directly across the street from the port.  For Fairmont President Club members, they have bicycles you can borrow to ride into Stanley Park which is a lot of fun.  The hotel will also check your bags to the ship on your day of departure.  Take them down to the bell captain, check them in and they will take them and check them into the ship, leaving your hands free to board the ship.
If you are staying after the cruise in Vancouver, all you need to do is walk your bags across the street and store them with the bell captain until your room is ready.  The city is yours to explore.
Happy Travels,
Terri